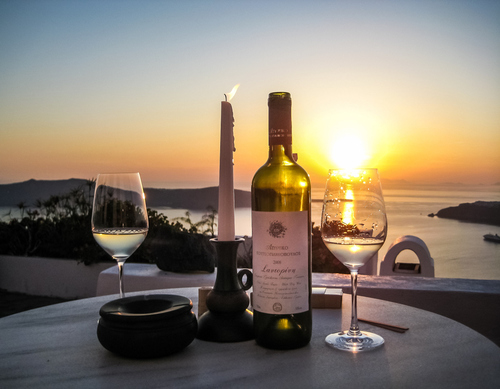 If you read my column Unscrewed last week, you know that I promoted the Greek varietal Moschofilero. I think there is tremendous value in the Greek world of wine, once you know where to look.
Demetrios Georgalas's insight:
The Island of Santorini: Impressions and Rituals
A jumble of houses strewn along the cliffs
Santorini, also known as Thira (Thera or Theira– this gets confusing when booking hotels and flights), is a volcanic island. Her appearance today is the result of a massive eruption 3500 years ago which literally, blew her top off. This led to the collapse of the volcanic mouth into a caldera (aka crater) to be filled in by the sea, leaving a ring of cliffs upon which the villages are now built. The resulting scenery draws thousands of tourists, but isn't necessarily stable, asrecent seismic tremors indicate. This same volcano is blamed for destroying the Minoan civilization on Crete (the same ones who made the foot press!).
Our 5:15 am, 45-minute flight out of Athens touched down on the outer edge of the isle, just as the sun began to glow, slowly hoisting itself out of the eastern stretch of sea. We would be staying on the caldera side, not far from bustling Fira town, the capital. After a short cab ride from the airport, we arrived at our hotel the Heliotopos, and were greeted with our first glimpse of the famous view, from our private balcony.
The azure expanse of sea stretched as though to another galaxy, silent and shimmering, only broken by the occasional boat skimming across its deep waters, ribbons traced across the placid surface. Steep, stark cliffs stretched starward, nearly 1000 feet above the ocean, with apparently as much descending into the depths below. As the rim curves, one can see specks of whitewashed villages, perched along the precipice; cubic homes built in jumbled stacks, as though rows of teeth in the mouth of a sleeping shark, swallowing the sea below.
During our four days on the island, we fell into an easy routine. Wine tasting during the day, followed by a sunset vigil on our balcony. Each evening we rambled down the hill to the nearest mart to collect fresh cheeses, local bread and cured meats before our evening celestial worship. We supplemented our offerings with the very local rose (I think the shopkeeper made it at home) or one of the many Assyrtikos we had amassed during our circadian wine tastings. Four days felt like one on Santorini, and after discovering there were multiple wineries producing high-quality vino strewn throughout the island, I quickly wished I had booked a week.
See on chasingthevine.com