Το Σέλας (του Σέλαος, πληθ. τα Σέλα ή Σέλαα) είναι το φωτεινό ουράνιο φαινόμενο που συμβαίνει στα ανώτερα στρώματα της ατμόσφαιρας και που παρατηρείται ιδίως στις πολικές περιοχές (εξ ου και Πολικό Σέλας), τόσο στον Βόρειο ημισφαίριο όσο και στο Νότιο αποκαλούμενο ανάλογα «Βόρειο Σέλας» και «Νότιο Σέλας».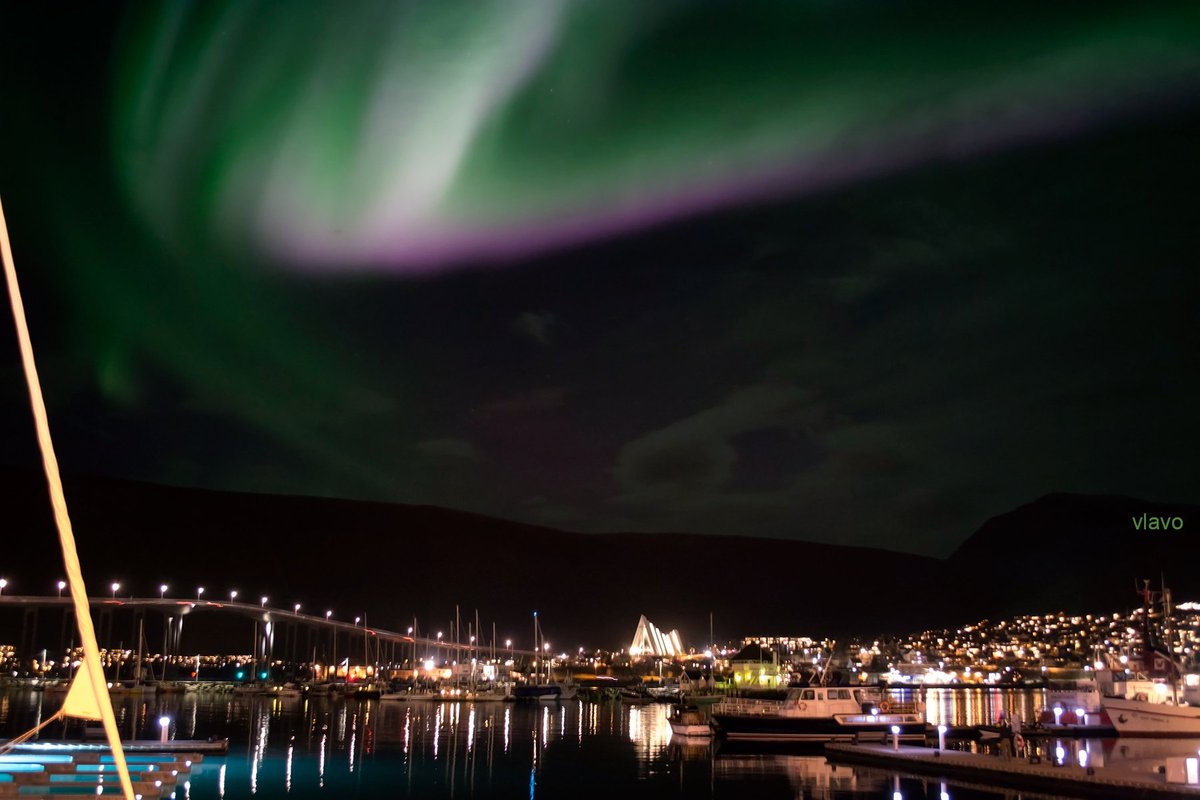 Πράσινη και ροζ Aurora πάνω από το λιμάνι του Tromso του Ανώνη Βλαβογελάκη #NorthernLights
Το φαινόμενο από τα ωραιότερα που προσφέρει η Φύση σε ποικιλία χρωμάτων και σχεδίων σε αιφνίδιες εμφανίσεις και με γρήγορες σχετικά μεταμορφώσεις.
Η εμφάνιση του Σέλαος, αν και πολύ σπάνια για παραμεσόγειες χώρες, κίνησε το ενδιαφέρον των ανθρώπων από την αρχαιότητα και ήταν γνωστό στους αρχαίους Έλληνες. Πρώτος επιστημονικά παρατηρητής του φαινομένου φέρεται ο Αριστοτέλης που όπως αναφέρει στα «Μετεωρολογικά» του (Α',5):
«Φαίνεται δε ποτέ συνιστάμενα νύκτωρ αιθρίας ούσης πολλά φάσματα εν τω
ουρανώ…, ημέρας μεν ουν ο Ήλιος κωλύει, νυκτός δε έξω του φοινικικού (δηλαδή
του ιώδους) τα άλλα δι΄ ομόχροιαν ου φαίνεται»,
που σημαίνει ότι πρέπει να είχε παρατηρήσει έντονα το φαινόμενο του Σέλαος κατά τη διάρκεια αίθριας νύκτας.
Η φωτοβολία της ατμόσφαιρας (πάντα κατά τον Αριστοτέλη) δεν είναι ομοιογενής αλλά τα φάσματα του φαινομένου αυτού παρουσιάζουν χάσματα. Και είναι εκείνα που παρουσιάζουν ακριβώς το Σέλας ως κυματιζόμενες «ουράνιες κουρτίνες» ή «ουράνιες μπαλαρίνες» όπως χαρακτηρίζεται το φαινόμενο από τους σύγχρονους παρατηρητές.
==========================================================================
Auroras, sometimes called the northern and southern (polar) lights or aurorae (singular: aurora), are natural light displays in the sky, usually observed at night, particularly in the polar regions. They typically occur in the ionosphere.
They are also referred to as polar auroras. In northern latitudes, the effect is known as the aurora borealis, named after the Roman goddess of dawn, Aurora, and the Greek name for north wind, Boreas by Pierre Gassendi in 1621.
The aurora borealis is also called the northern polar lights, as it is only visible in the sky from the Northern Hemisphere, the chance of visibility increasing with proximity to the north magnetic pole, which is currently in the arctic islands of northern Canada.
Aurorae seen near the magnetic pole may be high overhead, but from further away, they illuminate the northern horizon as a greenish glow or sometimes a faint red, as if the sun was rising from an unusual direction.
The aurora borealis most often occurs from September to October and from March to April. The northern lights have had a number of names throughout history. The Cree people call this phenomenon the «Dance of the Spirits.»
» A journey of a thousand miles must begin with a single step.» — Lao Tzu
Copyright © Demetrios the Traveler